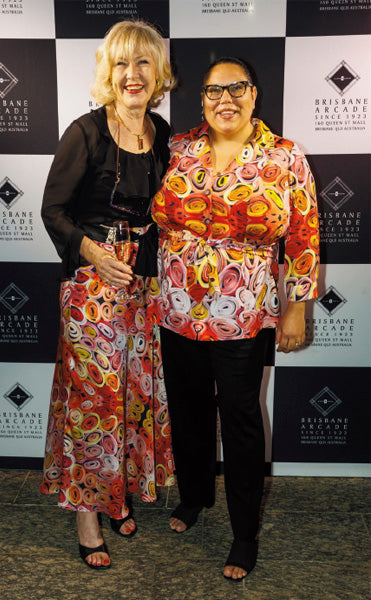 Barrister: Avelina Tarrago
Avelina Tarrago is a proud Wangkamahdla woman from central-west Queensland who grew up in Meeanjin (Brisbane). She is now one of 6 Indigenous Woman barristers in Australia. This year Avelina championed a ground breaking initiative to have First Nations culture featured as a lining option for formal court regalia. She wanted "to be shrouded in culture during formal legal ceremony and to include Culture and Cultural acknowledgement in formal legal settings".
Avelina's middle name, Yuwea, means "first rain of the season", a name given by her maternal grandmother, a Wangkamahdla Elder. Her dreaming story is a water dreaming story and so the meaning of "Water Soakage" has a deep personal as well as a greater cultural significance for her. Through her skin (or moiety) connection via her mother, Avelina selected Louise Numina's art for her chambers, home and this project.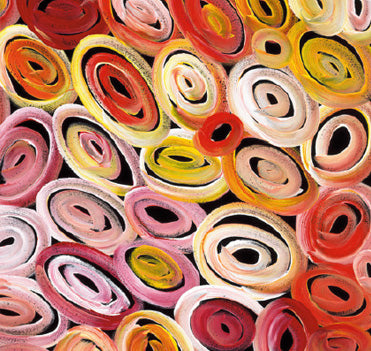 The Inspiration
The "Water Soakage" motif was selected for its inherent significance in Aboriginal and First Nations Culture, as well as the personal significance to Avelina. Water being a necessary condition for all forms of life and a universal necessity for Indigenous and non Indigenous people. In terms of Aboriginal culture, Avelina says that "Water is essential to Aboriginal Culture and lore both in life and spiritual practice, it cannot be separated from other elements and exists in all parts of life and culture . Water is a shared essential resource for life , there is a shared essential need for access. Water is a community resource and cannot be just for one person or individual".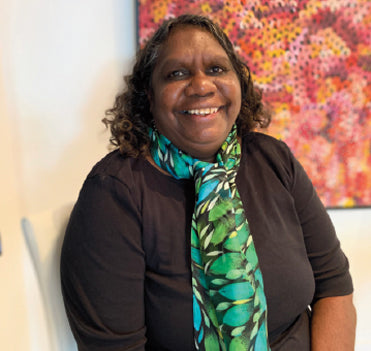 Artist: Louise Numina
Louise Numina, a proud Anmatyerre woman, and renowned artist who has collaborated with Pia since 2017. She says that her "Water Soakage" painting is "…about survival – finding water in the desert. You look for the patterns in the creek beds and the rock crevices and especially if there are birds flying around, if you dig there the water will be there , pure and ready to drink."  
Designer
Inspired by this, Pia has created a new collection for professional women in collaboration with Avelina, featuring Louise Numina's "Water Soakage" in vibrant desert colours. Part of the sales from this collection will be donated to the Mullenjaiwakka Trust to support Aboriginal and Torres Strait Islander lawyers pursuing a career at the Bar.