Pia initially commissioned three paintings  which translated beautifully into fabric . Bush Medicine Leaves, Bush Medicine Flowers and Bush Yams which represent Dreamtime stories from Louise's Anmatyerra heritage.
The Bush Medicine leaves in vibrant shades of green, jade and turquoise was printed on luxurious silk and launched as gala gowns in the MBFF and Brisbane Arcade parades. These were show stoppers literally taking people's breath away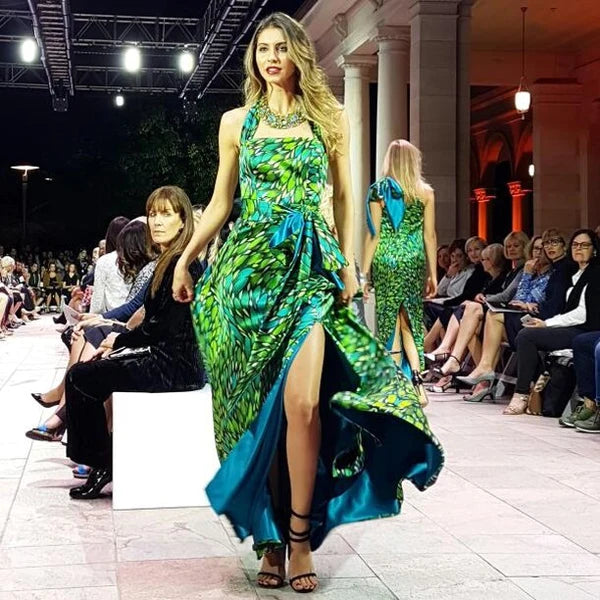 Jane Lewis, of www.raintreeart.com.au  explained that Louise Numina's painting tells a story. 
By painting about her dreamtime the artist is paying homage to the spirit of the medicine plant in the hope that it will regenerate, enabling the people to use its healing powers.
Bush Medicine Dreaming
Bush Medicine Leaves:

Bush Medicine dreaming depicts the leaves of a special plant that is used to aid the healing process. 

The leaves are collected and then boiled to extract the resin from the leaves.

Bush Medicine Flowers:

This resin is mixed with kangaroo fat collected from the kangaroo's stomach. This creates a paste that can be stored for up to six months in bush conditions. This medicine is used to heal cuts, wounds, bites, rashes and also as an insect repellent. 

Bush Yam:

This painting depicts the seed (kame) of the pencil yam (atnwelarr). In the Dreamtime two seeds were born and created two types of pencil yam. One seed was named Atnwelarr for the Alhalkere country and the other seed was named Arlatyeye for Arnumarra country.
The pencil yam is a staple source of food for Aboriginal people.
The women from Alhalkere, Utopia in Central Australia perform ceremonies to ensure its perpetual germination. The seed (Kame) is also used as bush medicine for its healing qualities as eye soothers.
By using Aboriginal designs in fashion, Pia intends to stimulate a cross cultural interest in current and future clients.
She hopes that clients will ask the question 'What do these patterns symbolise?', 'Who is the artist?', 'Why does she paint like this?'. Each garment has a special swing tag with a photo of Louise Numina in the process of painting and stating that 'By purchasing this you are paying homage to the Anmatyerre culture'. The tag has contact details for further information and art purchases. 
It is hoped that people will love her work and continue to purchase her paintings as they did at her first solo exhibition held at Kenmore Gallery, which was organised to coincide with the Brisbane fashion parades.